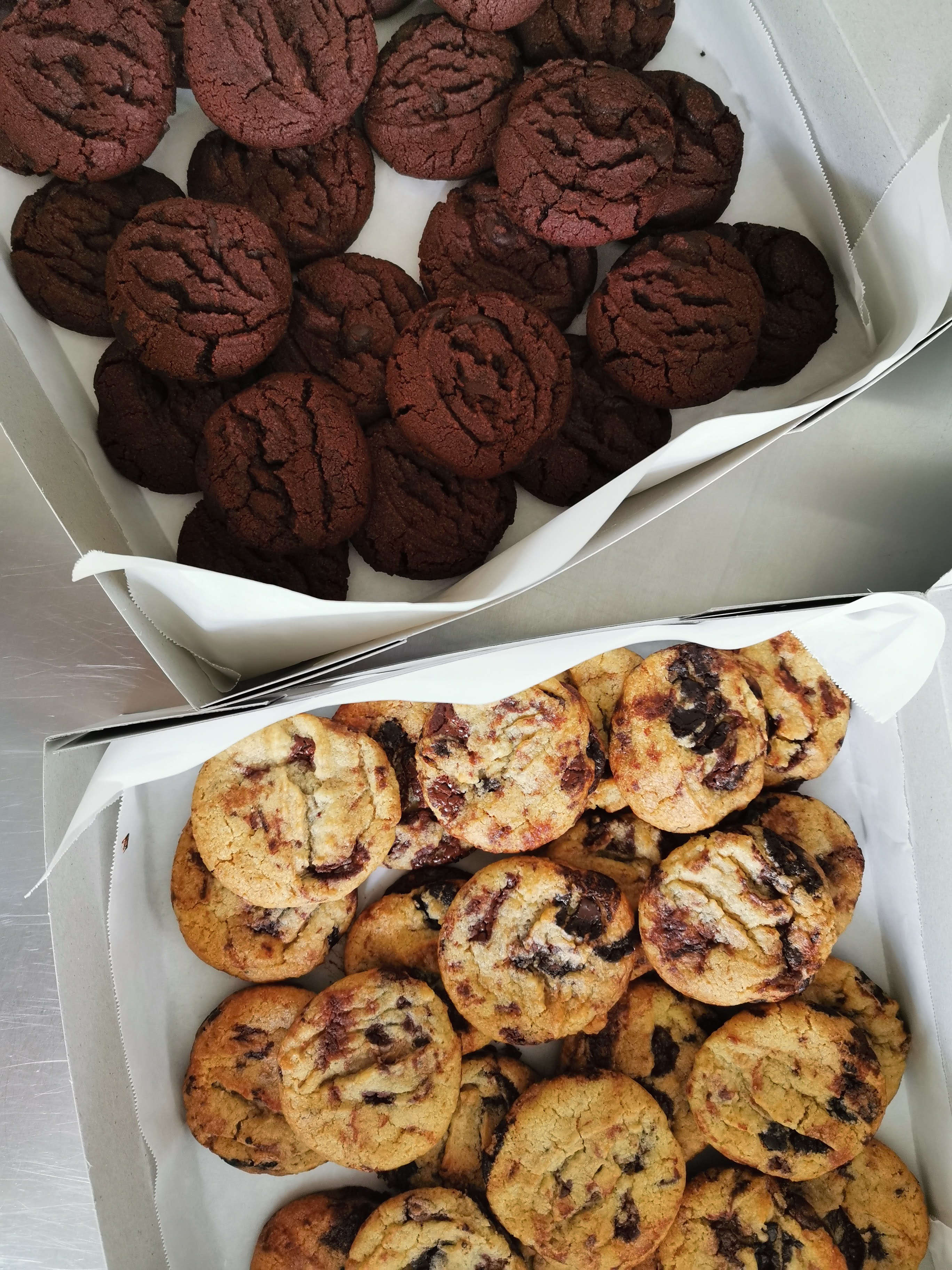 Frequently Asked Questions
How are your products sold?
The minimum order is ONE sheet (10"x10" which is 16 pieces) of brownies.
Our Brownies are sold by the sheet or 2 half sheets (For our combo boxes).
Cookies are sold by the batch of 24 pieces. The minimum order for cookies is ONE batch of 24 cookies.
---
How do you deliver?
We use Lalamove or Grab to handle our deliveries within the Klang Valley.
All deliveries rates are direct quotes by Grab or Lalamove. We do not profit from the deliveries.
Please note that for same day delivery - all orders must be made between 11am to 3pm.
Any orders made after 3pm will be scheduled for delivery on the following day.
Or you are welcome to pick up from our home kitchen located at 809 Jalan 17/24, Petaling Jaya.
---
Can you make it with less sugar/no nuts/ etc?
In order to protect the integrity of the texture and flavor of our products, we regret that we can not make changes to our recipes.
Thank you for understanding.
---
Can I buy a few pieces? Or a half sheet?
Smaller combo boxes are readily available on our GrabMart store.
Type 'California Cookie Company' in the search box to find us.
---
What's the shelf life of the Brownies and Cookies?
Our products are at its best on the day received, but would stay fresh about 7 to 10 days, stored in the fridge. Best consumed at room temperature.
To extend its shelf life beyond weeks or months, we would recommend having our brownies/cookies stored frozen in an air-tight container. All our products freeze well.
---
How do I reheat your products?
Reheating instructions (For oven)
Preheat oven to a 160 degrees, put brownies/cookies in and switch oven off.
Allow residue heat to warm it up for 2-3 minutes or to your preference.
Reheating instructions (For microwave)
Reheat at 5 seconds burst until warmed up to your preference.
---
How do I pay?
Our website is equipped with an online payment system. We accept all payments including Instant Bank Transfers, credit/debit cards, e-wallets (Grabpay and Touch n Go).
Please follow the instructions at the check-out page.
---
Will the delivery rider call my family member/friend when he gets there?
Do provide us the names / phone numbers of the recipients (for the delivery rider to contact them once he gets to their respective addresses) in the 'Customer Remark' box at the Checkout page and we will inform the delivery services.
---
What time can I expect to receive my goods?
Please select your preferred date and time for delivery that falls within our business hours, at the checkout page.
---
What else do you bake/sell?
Please follow us on Instagram/Facebook. We keep our customers updated as to our offerings on those platforms.
---
I have more questions regarding your products. How can I speak to someone about it?
We are more than happy to help answer all your queries. Call or Whatsapp us at 0124922016 to speak to us directly.